THE NEW YORK SUN WEEKEND EDITION, JULY 30-AUGUST 1, 2004 PAGE 21
J A Z Z
Supersize Monk
By WILL FRIEDWALD
Thelonious Monk's works are easily the most performed of anyone other than Duke Ellington, yet his music represents a particular challenge to contemporary interpreters. There would be no point in playing Monk's music exactly as he played it - you can't compete with him at his own game - but if you change too much you risk sacrificing the music's essential Monkishness.
THE BEN RILEY MONK LEGACY BAND
Village Vanguard
JOHN STETCH
Exponentially Monk
There's no point playing Monk's music exactly as he played it—you can't compete with him at his own game. But change too much and you sacrifice the music's essential Monkishness.
In March, an all-star band featuring the late Steve Lacy, Dave Douglas, and Roswell Rudd offered its interpretations at the Iridium. Now there are two more very worthy Monk tribute offerings. The Ben Riley Monk Legacy Band led by the drummer most associated with the late composer, works this week at the Village Vanguard - the club most identified with Monk. And a new CD, Exponentially Monk (Justin Time 206), has just been released by the Canadian pianist John Stetch.
Monk was first and foremost a piano player, who laid his distinctive touch upon many a showtune and pop standard that he himself did not compose (in fact, many of his own compositions are variations on standards). Therefore the piano remains central to any re-consideration of Monk's music, even when—as in the case of the Riley septet—it isn't there.
The Riley unit more accurately should be titled the "Ben Riley-Don Sickler Monk Legacy Band" since trumpeter Don Sickler serves as its co-leader, conductor, and musical director. He has written the arrangements for a seven-piece band of four horns and three rhythm. Even though guitarist Freddie Bryant is also a prominent part of the band, Mr. Sickler resisted the temptation to let the guitar take the place of the piano. Mr. Bryant plays with an appropriately Monkish percussiveness, but he supplies horn-like, single-note-lines, rather than comping chords like a pianist.
Overall, this is one of the finest efforts I've heard at translating Monk's compositions and ensemble sound to a larger ensemble. The band's texture is reminiscent of Monk's early recordings as a leader, since that was the only point in his development when he routinely worked with two or three horns. Everything else about the group, though—especially the drumming of Mr. Riley—suggests Monk's classic quartet of the 1960s. Despite some fine soloing from saxophonist Wayne Escoffery - who, among other things is probably the tallest tenor since Dexter Gordon - Mr. Riley is the dominant musical force in his band. His drumming is at once propulsive and unintrusive
The Vanguard show included many of Monk's most successful reworkings of familiar standards: Bright Mississippi (both the harmonies and the title are a play on "Sweet Georgia" - "Brown," that is), "Evidence" ("Just You, Just Me"), "Let's Call This" ("Honeysuckle Rose"), "Bemsha Swing" and "Rhythm-A-Ning" (both of which use "I Got Rhythm" in different ways). Monk disdained the act of trashing the melody and using just the chords, and in all these pieces you can follow both the original melody and the new one Monk lays on top of it
Mr. Stetch's take on Monk, of course, is entirely piano. But both Mr Riley and Mr. Stetch alternate between familiar' and obscure Monk tunes (coincidentally, both play the lesser-known "Gallop's Gallop" from 1955). Both also play Ugly Beauty. Monk originally wrote this song as a ballad in the usual 4/4; it was Mr. Riley who heard the melody at the recording session, suggested that it might work better in 3/4, and thus transformed it into Monk's only waltz.
Mr. Stetch's treatment is slow and simple, combining Monkish open spaces with an introversion that suggests Bill Evans. His Well You Needn't, on the other hand, is a more radical reinterpretation: The opening chorus has Mr. Stetch stating the chromatic melody with his right hand on the keyboard and his left hand inside the piano, picking out a pizzicato accompaniment as if it were a bass.
It's a question of Monk Orthodox versus Monk Reform, with both Mr. Riley and Mr. Stetch assuming both roles at different times. But if you fear that creative musicians have run out of interesting ways to play Monk's music - well, you needn't.
Ben Riley's
Monk Legacy Septet at the Village Vanguard
Russ Musto, AllAboutJazz.com August 2004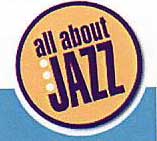 The Village Vanguard closed out July with a weeklong engagement by Ben Riley's Monk Legacy Septet. The band, featuring guitarist Freddie Bryant, bassist Essiet Okon Essiet, trumpeter Don Sickler, and a saxophone section of Bruce Williams (alto), Wayne Escoffery (tenor) and Jay Branford (baritone), was in full swing Wednesday July 26, negotiating Sickler's unrestrained arrangements, driven by Riley's rhythmic exhortations, with skillful abandon. Beginning with Shuffle Boil, Sickler employed an engaging formula, dividing Monk's multifaceted melodies into a succession of short phrases played by different players, often with horns or guitar riffing alternating staccato and legato backgrounds and Riley interjecting drum interludes that mimicked Monk's dancing rhythms. The method worked particularly well on Straight No Chaser, which began dramatically with a cappela horns and culminated with an extended drum solo.
Williams and Branford were featured on the melancholy ballad Ask Me Now and Escoffery swung mightily on Nutty as did Sickler, whose arranging skills shined brightly on the Latinish Bye-Ya and contrapuntal Boo Boo's Birthday. Bryant's guitar joyfully imitated Monk's dissonant piano chords and idiosyncratic rhythmic runs over Essiet's stalwart walking bass on We See. The climactic performance of Green Chimneys incited an impromptu clapping accompaniment from the audience, which cheered loudly as the players were introduced during the playing of the break tune, Epistrophy.
Russ Musto, AllAboutJazzcom August 2004


THE NEWARK STAR-LEDGER THURSDAY, JULY 29, 2004
Monk minus keyboards
Riley's septet rises to challenge of presenting
bebop legend's legacy
BY ZAN STEWART
Star-Ledger Staff
NEW YORK -- Thelonious Monk's combination of thoughtful, punchy, often memorable melodies, subtle-to-provocative harmonies and hefty, sometimes surging rhythms gives his music an undeniable timelessness. This was proven again with the premiere of drummer Ben Riley's Monk Legacy Septet Tuesday night at the Village Vanguard. Monk, one of the bebop movement's core figures, wasn't called "The Genius of Modern Music for nothing."
And as trumpeter Don Sickler's arrangements for the septet showed, finding fresh ways to present Monk's art can be a challenge -- especially without a piano. During the course of Tuesday's first set, there were moments that recalled Monk's power, his drive, other moments that extolled his gift for tuneful themes, still others that showcased his quirkiness. Some of the most interesting spots came from Sickler's orchestrations of Monk piano accompaniments and solos transcribed from recordings.
For the most part, the septet's performance—despite the expected first-night, first-set jitters of a band making its live debut—was first rate Sickler, alto and soprano saxophonist Bruce Williams (of Upper Montclair), tenor saxophonist Wayne Escoffery, baritone saxophonist Jay Branford and guitarist Freddie Bryant delivered their tricky parts deftly, and soloed solidly. Bryant, he of lightly gleaming sound and crisp ideas, alternately worked as both a member of the horn and rhythm sections. In the latter, he teamed there with bassist Essiet Okon Essiet and the tidy, relaxed Riley, who was Monk's drummer from 1964-67, and who knows this music inside out.
"Bemsha Swing," which Monk wrote with drummer Denzil Best, showed the band at its best. The theme, which starts with two hard-hit, low-to-high notes, then gradually descends, was played by either guitar, baritone and tenor, or trumpet and guitar. The way the instruments' notes were widely spaced gave the chart a clear Monk flavor, as did the biting alto-trumpet lines behind Escoffery's buoyant-toned, laden-with-thickets-of-notes solo. Riley kept time with simple cymbal attacks, and modest drum accents, and his solo, ranging from concise, brief remarks to voluble whirrs, often brought the openness of the composer to mind.
The uptempo "Rhythm-a-Ning," which boasted numerous orchestrated examples of what Monk actually performed on the 1964 recording "Live at the It Club" (Columbia), was also dynamic. The vaulting theme was played with vigor by baritone and tenor, then trumpet and alto; the contrast was like hearing Monk in the lower range of his instrument, then its higher end. Behind Escoffery's solo, Sickler and Williams offered bright Monkisms. Then as Williams soloed, his juicy tone and fluid ideas to the fore, Escoffery and Branford delivered the composer's brief, ascending thoughts. Later, the four horns played three orchestrated choruses of a Monk solo. Remarkably, it sounded like the man.
The set's most tuneful song was the waltz "Ugly Beauty," recorded by Monk with Riley at the 1964 record date Underground (Columbia). This sported a melody that stayed in one's ear long after the performance ended.
"Brake's Sake" was yet another number where the orchestrated theme was tossed back and forth between various instruments. Though this conceit clearly worked, one wished there had occasionally been more of the unison theme presentations Monk favored especially with the weight of four horns.
But that's a minor carp. By week's end, when this band has really settled into the material, it should be quite something to hear.