THE NEW YORK AMSTERDAM NEWS July 22-July 28, 2004 page 21 Jazz Notes by Ron Scott
Ben Riley leads piano-less Monk!
Donít bother to ask legendary drummer Ben Riley what jazz musicians he has performed with in his long illustrious career unless you have hours of free time. "I pride myself in being a good accompanist," noted Riley. He has played with a wide variety of musicians, including Duke Ellington, Stan Getz, Randy Weston, Alice Coltrane, Ron Carter, Jim Hall, Ahmad Jamal, Sonny Rollins, Woody Herman, Gary Bartz, Junior Mance, Nina Simone and Billy Taylor among many others. "The main objective is to give the person youíre working with what they want to hear," explains Riley. Itís been a great honor to have played with such wonderful musicians. I must be doing something right because they keep calling me.
However, it was his association that lasted almost five years with the great Thelonious Monk that secured Rileyís undeniable place in jazz history (1964-68). He toured extensively with the pianist and recorded some of Monkís now classic Columbia albums: "Underground" (1967-68), "Straight, No Chaser" (1967; one of Monkís most famous compositions which inspired a film-documentary with an appearance by Riley), and "Itís Monkís Time" (1964). The latter introduced Riley to the band and its release was roughly concurrent with Monkís cover profile in Time Magazine (Feb. 28, 1964).
Tenor saxophonist Charlie Rouse was always Monkís mainstay, while his bassists varied from John Orr to Butch Warren and Larry Gales, who Riley recommended. Gales proved to be one of the few bassists who understood Monkís harmonic concepts.
"While playing with Monk I was influenced by his rhythmic phrasing and simplicity. His phrasing and rhythms were difficult but he didnít make it hard," explained Riley. "He made you a part of the composition and let you be just as creative." On July 27 through August 1, Riley will celebrate his 40th anniversary of playing with Monk at the Village Vanguard (they played together at the famous jazz club a total of 166 nights), under the headline of Ben Rileyís Monk Legacy Septet. The master drummer and arranger Don Sickler will introduce piano-less explorations of Monkís music. The septet, fueled by Rileyís rhythmic intensity, will include trumpeter Sickler, alto and soprano saxophonist Bruce Williams, tenor saxophonist Wayne Escoffery, baritone saxophonist Jay Branford, guitar Freddie Bryant and bassist Essiet Okon Essiet. They will explore Monkís rhythmic language of unorthodox harmonies with challenging twists and turns and beautiful simplicity, playing his standards and many of his less well-known compositions with vitality and attitude.
"I have played piano-less for quite sometime with Steve Nelson, Sonny Rollins, Ted Dunbar and Ron Carter, says Riley. It brings a different color to the mix."
Sickler noted, "I have been blessed to be able to arrange Monkís music over the years, his wife Nellie Monk, who has since passed, was significant in helping me get all his incredible music. She would have loved this upcoming performance." Riley and Sickler have been articulating the pianistís music together since the early Ď80s, primarily performing in European venues. They came up with the piano-less concept last year and then realized the timing was perfect for Rileyís 40th anniversary celebration. Sickler, who also did musical arrangements for Charlie Rouse, stated, "We started out with four arrangements and now we have 24; this is really going to be an exciting engagement and working with Ben is always a great honor. Heís lived Monkís music."
Riley, a native of Savannah, GA, played regularly in Harlem and Manhattanís renowned Five Spot with such musicians as Andy McCloud and Walter Bishop, Jr. It was the Five Spot where he worked opposite Monk in three different trios. "Every night after my sets I would stay and watch Monkís movements and listen to his every note. He never spoke to me, until one night he asked if I was the house drummer or something and kept walking," explained Riley with a laugh.
That week, Rileyís gig ended and on Monday, he received a call from someone saying Monk wanted him to come downtown for a recording session. The drummer, thinking his friend was playing a trick on him, hung up the phone. The person called back; it was Monkís manager, Harry Colomby, who explained the situation in detail. "I jumped in a cab with my drums, arrived at the studio and was told where to set up. Monk comes in, sits at the piano and just starts playing, never saying a word," Riley recalls the story with boyish excitement. "After the session, he asked me if I had money, noting he didnít want anyone in his band broke. Then he asked if I had a passport, to which I answered no. He says, well weíre leaving for Europe on Friday. Thatís when I realized I was in the band - man what a great feeling."
Although, Monk never really said anything to Riley, itís clear that during his gigs, the legend was paying close attention and was impressed by his great musicianship. His rhythmic voice and laid-back style has earned him a reputation as one of the most significant drummers in jazz history. While Riley is well respected among his peers and fans throughout the world, his reputation in America is somewhat understated since for most of his career he has been a consummate sideman as opposed to a bandleader (although at various times he has been an exceptional leader as well). In the Ď80s Riley was the key element in the group Sphere, which consisted of Kenny Barron, Buster Williams and Charlie Rouse. In 1992, his hometown of Savannah inducted him into their Coastal Jazz Hall of Fame.
"With Monk I learned the significance of projecting to the audience. His advice was to find one person that is listening and play to that person, explained Riley. I always do that for every performance. He added, The best part of my experience with Monk was we became real friends. To continue his musical legacy at this upcoming Village Vanguard engagement is definitely a joyous honor."



PAGE 18 FOR THE WEEK OF JULY 23-29 THE NEWARK STAR-LEDGER FRIDAY, JULY 23, 2004
Tribute to the Monk
Former Thelonious Monk drummer Ben Riley carries on the legacy with a septet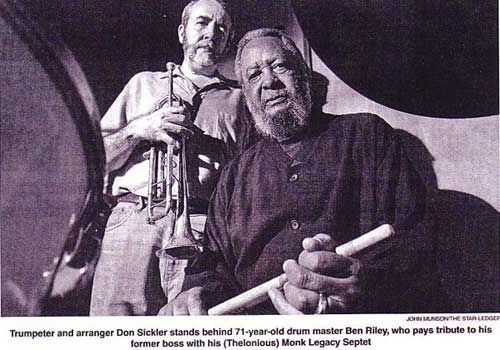 Trumpeter and arranger Don Sickler stands behind 71-year-old drum master Ben Riley, who pays tribute to his former boss with his (Thelonious) Monk Legacy Septet
JAZZ
Ben Rileyís Monk Legacy
BY ZAN STEWART
STAR-LEDGER STAFF
One of the high points of drummer Ben Rileyís 50-plus-year career was playing with Thelonious Monk from 1964-67. Now, with his Monk Legacy septet, the 71-year-old drum master is getting another chance to play the music of Monk, the jazz composing and piano giant famed for such songs as íRound Midnight, Straight, No Chaser and Ruby, My Dear. Itís sort of like going home.
"Hearing Theloniousí music again has opened me up to the way I was when I was with him, said Riley, whose ensemble opens a six-night stand Tuesday at the Village Vanguard in New York I feel him in this music."
"To play Theloniousí music again is also wonderful, because Don (Sickler, the septetís trumpeter and arranger) is approaching it in a different way, said Riley in an interview from his home in Suffolk County, Long Island. His music is so beautiful."
Sickler, 60, also feels thereís something very special about Monkís art
It feels so fresh, yet itís 40 and 50 years old, he said in a separate interview from his home in Manhattan. This again emphasizes the genius of Thelonious Monk. He was so far ahead of his time.
The new septet addresses such Monk vehicles as "Straight, No Chaser," "Rhythm-a-Ning," "Bemsha Swing" and "Epistrophy" in a unique manner. The band comprises trumpeter Sickler, alto saxophonist Bruce Williams of Montclair, tenor saxophonist Wayne Escoffery, baritone saxophonist Jay Branford, guitarist Freddie Bryant, bassist Essiet Okon Essiet and Riley, but no piano.
The piano-less concept has, long interested both Riley, who has led a quartet with guitar, vibes and bass, and Sickler, who was looking for a new way to tackle Monkís oeuvre.
"Not having a piano gives us a lot more open spaces (silences) to deal with, which is like playing with Thelonious," said Riley, who also played with such aces as Sonny Rollins and Woody Herman. He used a lot of space.
"We also realized if we eliminated the piano, we could explore something thatís never been explored: the way Monkís accompaniment, rhythmically, harmonically, lit fires behind the rhythm section and the soloist. That comping lends itself to orchestration," said Sickler.
Sickler started on this tack by transcribing Monkís piano comping, and his solos as well, from several recordings, mainly those that Riley played on, such as the exemplary "Live at the It Club" (Columbia). He then deftly orchestrated what Monk played for the four horns and guitar.
Heard in rehearsal at Sicklerís studio last Sunday, the bandís versions of "Rhythm-a-Ning" and "Gallopís Gallop" crackled with portions of Monkís piano heard in an entirely fresh, and completely engaging, way. To this writer, who heard Monk several times, including during the It Club recordings in Los Angeles in 1964, the writing indeed evoked the sound of Monk in action.
The orchestrations have knocked Riley out, said Sickler. "Once he started to experience it, hear some of Theloniousíbackgrounds behind the solos, it lit Ben on fire," he said. "It was like hearing Thelonious thrown back at him. It became very exciting. Once we saw that smile on Benís face, it inspired all of us."
Riley, who was close with Monk, and was his everyday companion on road trips, has helped by offering pointers on how Monk might have played things. "He tells us this music has an attitude," said Sickler. "Heís on our case to keep the intensity but soften it. You canít be blasting away or this music wonít work."
For his part, Riley said heís "having a ball." "These guys are very enthusiastic; and are really coming around it to this music. They want to do it, and thatís wonderful."